A History of Roman Coinage in Britain
GBP 25,00
Quantity

In Stock
Postage

Free to United Kingdom
Free in UK Mainland
Get Additional Rates
Select Country

Zip/Post Code

Quantity
3892 views
Seller Info
Crawfords Detectorbits (157 )
Registered Since

15.01.2013 12:29:07

Feedback

100%

Store
Description
A History of Roman Coinage in Britain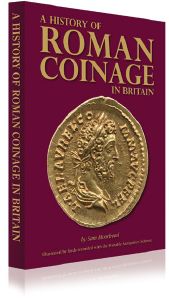 If you have a Roman coin that you want to identify look no further. If you want to delve deeper into the coin, emperor, or particular period the book is an excellent starting point for further and deeper research. With over 1600 colour photographs this is the only book on Roman Coins you will ever need!

Written by Sam Moorhead of the British Museum, this book provides a chronological overview of Roman coinage from the Republican period (300BC) to the early 5th century, with an emphasis on Roman coinage used in Britain. The text provides an introduction to the history of each period and then outlines the coinage (denominations, mints, contemporary copies etc.), using Portable Antiquities Scheme (PAS) and British Museum (BM) coins as illustrations. Throughout, indications are made of the numbers and distribution of particular Roman coin finds in Britain.

Over 800 coins are illustrated in over 1600 colour photographs showing both obverse and reverse for each coin. There are also over 30 distribution maps.

224 pages, A4 - ONLY £25
To view sample pages of this book, click here:
A review By Chris Rudd
Thank you very much for the copy of The History of Roman Coinage in Britain. It made my weekend and I keep dipping in and out of it whenever I have time. It's a great book because it talks about Britain's Roman coins in a way that hasn't been done before – down to earth without being dumbed down – and it displays delightful images of these coins in a manner which hasn't been seen in any previous reference book: instead of showing glossy pictures of glamorous, pristine, mint-state coins, it shows them as they most often come out of British soil, corroded and with bits missing. I love the coin captions especially; each one contains a golden nugget of useful information. The production quality is impeccable too. I take my hat off to Sam Moorhead and Greenlight Publishing. It's a stunningly good book and I know it will be a screaming success. Why? Because it doesnt scream look at me, look how clever I am! It gets on with the job of being hugely helpful to the reader.
£25.00 Free Shipping in Uk
Payments & Returns
Payment Methods

PayPal, Cash on Collection
Postage & Shipping
Item Location

BH21 2DY, Dorset, United Kingdom

Ships To

Worldwide

Pick-ups

Buyer can pick-up

Shipping Instructions

2nd Class Royal Mail
Returns Accepted

Yes

Returns Policy

Returns accepted within 14 days, in the same condition as sent out. Buyer must pay return postage.
Post Message
Sign in
to ask the seller a question.