British Artefacts Volume 3
GBP 16,00
Quant.

Em estoque
Frete

Grátis to United Kingdom
Free in UK Mainland
Get Additional Rates
Selecione o pais

Zip / Código Postal

Quant.
1254 views
Vendedor
Crawfords Detectorbits (157 )
Registrado desde

15.01.2013 12:29:07

Feedback

100%

Loja
Descrição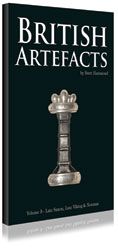 British Artefacts Vol 3 - Late Saxon, Late Viking & Norman by Brett Hammond. **NEW**
In this significant book, Brett Hammond builds on the success of the previous volumes, illustrating the social, military, economic and religious developments in the Late Saxon, Late Viking and Normanperiods with well‐chosen artefacts of many types photographed to bring out their beauty and charm.
The author is a respected researcher in the field of Anglo‐Saxon and Viking material culture, with more than a decade at the forefront of object identification and classification. His fascination with and passion for the subject comes through on every page. British Artefacts is a new series of books covering finds made in the British Isles and their contexts, drawing on parallel Continental examples. The objects described and illustrated (in photographs and line‐drawings) will represent the range of items in use, from the lowly pin or knife blade to the finest quality jewellery.
Volume 3 covers Late Saxon, Late Viking and Norman finds from circe 950-1150AD, comprehensively encompassing Mammen style, Winchester style, Ringerike style, Romanesque style and Urnes stule, with succinct one-line summaries telling you what to look for when seeking the characteristics of those art styles on your findds. No matter what a day's searching puts into your finds bag - plate brooches, zoomorphic brooches, penannualr brooches, annular brooches, buckles, belt fittings, strap ends, fasteners, tags, pins, pendants, rings, arm-rings, bracelets, swords, axes, spears, knives, daggers, scabbard fittings, maces, helmets, armour, stirrup mounts, stirrups, spurs, gaming pieces, weights, seal matrices or lead seals - you will find much about them in the pages of this remarkable book.
Packed with images of metallic and non-metallic finds, superb maps, a comprehensive survey of manufacturing techniques, a potted history of these turbulent centuries, the glossary and the extensive bibliography, all of which add value to British Artefacts Volume 3 and demonstrate what a truly magnificent book this is.
A4, 128 pages,
£16.00 Free Shipping In UK 
Pagamentos e Devoluções
Formas de Pagamento

PayPal, Cash on Collection
Postagem / Frete
Localização do Produto

BH21 2DY, Dorset, United Kingdom

Origem

No mundo todo

Pegar

Comprador pode pegar pessoalmente

Instruções de envio

2nd Class Royal Mail
Aceita Devolução

Sim

Política de Devolução

Returns accepted within 14 days, in the same condition as sent out. Buyer must pay return postage.
Escrever mensagem
Entre
to ask the seller a question.