Cleaning Coins & Artefacts
GBP 12,00
Menge

auf Lager
Porto

Frei to United Kingdom
Free in UK Mainland
Get Additional Rates
wählen Sie das Land

Postleitzahl

Menge
1092 views
Verkäuferinfo
Crawfords Detectorbits (157 )
Registriert seit

15.01.2013 12:29:07

Feedback

100%

Store
Beschreibung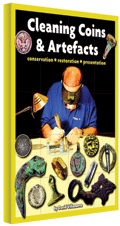 Cleaning Coins & Artefacts by David Villanueva
Cleaning Coins & Artefacts by David Villanueva sets out to show you what you can safely do to clean & preserve metal detector finds. Whilst recognising that finds of significant monetary or historical value are best left to experts there is much that can be done to preserve, conserve and display your finds.

The chapter headings give you an idea of the coverage of this title:
- Introduction
- In The Field
- Map Reading
- Safe Storage
- Identification & Assessment
- Introduction To Cleaning Finds
- Mechanical Cleaning
- Electrolysis
- Chemical Cleaning and Conservation
- Repair, Restoration and Replication
- Photographing Your Finds
- Storage And Display
- The Treasure Act
- Bibliography and Suppliers

A5 (210 x 148mm) 
 £12.00 Free shipping in UK
Bezahlung
Zahlungsarten

PayPal, Cash on Collection
Versand
Artikelstandort

BH21 2DY, Dorset, United Kingdom

wird versendet nach

weltweit

Selbstabholungen

Kaufer kann Abholen

Versandanleitung

1st Class Royal Mail
Rückgaberecht akzeptiert

Ja

Rückgaberecht

Returns accepted within 14 days, in the same condition as sent out. Buyer must pay return postage.