Cleaning Coins & Artefacts
GBP 12,00
Quant.

Em estoque
Frete

Grátis to United Kingdom
Free in UK Mainland
Get Additional Rates
Selecione o pais

Zip / Código Postal

Quant.
1096 views
Vendedor
Crawfords Detectorbits (157 )
Registrado desde

15.01.2013 12:29:07

Feedback

100%

Loja
Descrição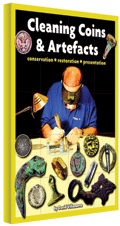 Cleaning Coins & Artefacts by David Villanueva
Cleaning Coins & Artefacts by David Villanueva sets out to show you what you can safely do to clean & preserve metal detector finds. Whilst recognising that finds of significant monetary or historical value are best left to experts there is much that can be done to preserve, conserve and display your finds.

The chapter headings give you an idea of the coverage of this title:
- Introduction
- In The Field
- Map Reading
- Safe Storage
- Identification & Assessment
- Introduction To Cleaning Finds
- Mechanical Cleaning
- Electrolysis
- Chemical Cleaning and Conservation
- Repair, Restoration and Replication
- Photographing Your Finds
- Storage And Display
- The Treasure Act
- Bibliography and Suppliers

A5 (210 x 148mm) 
 £12.00 Free shipping in UK
Pagamentos e Devoluções
Formas de Pagamento

PayPal, Cash on Collection
Postagem / Frete
Localização do Produto

BH21 2DY, Dorset, United Kingdom

Origem

No mundo todo

Pegar

Comprador pode pegar pessoalmente

Instruções de envio

1st Class Royal Mail
Aceita Devolução

Sim

Política de Devolução

Returns accepted within 14 days, in the same condition as sent out. Buyer must pay return postage.
Escrever mensagem
Entre
to ask the seller a question.