Detector Finds 4
GBP 15,00
Quant.

Em estoque
Frete

Grátis to United Kingdom
Free in UK Mainland
Get Additional Rates
Selecione o pais

Zip / Código Postal

Quant.
1162 views
Vendedor
Crawfords Detectorbits (157 )
Registrado desde

15.01.2013 12:29:07

Feedback

100%

Loja
Descrição
Detector Finds 4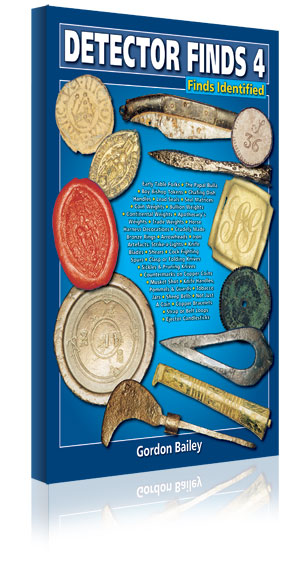 Another superb reference book from this Gordon Bailey (the fourth in the series) that will help you identify and value a wide range of finds.

Finds Identified is extensively illustrated, in full colour, and contains all new material.

Covering the period Medieval to Victorian (1100-1900) the contents include: Early Table Forks - The Papal Bulla - Boy Bishop Tokens - Chafing Dish Handles - Lead Seals - Seal Matrices - Coin Weights - Bullion Weights - Continental Weights - Apothecarys Weights - Trade Weights - Horse Harness Decorations - Crudely Made Bronze Rings - Arrow Heads - Strike-a-Lights - Knife Blades - Shears - Cock Fighting Spurs - Clasp or Folding Knives - Sickles & Pruning Knives - Countermarks on Copper Coins - Musket Shot - Knife Handles, Pommels & Guards - Tobacco Jars - Sheep Bells - Not Just A Coin - Copper Bracelets - Strap or Belt Loops - Ejector Candlesticks - Cannon Balls - Counterfeit Coins - Lead Tokens
£15.00 Free Shipping in UK
Pagamentos e Devoluções
Formas de Pagamento

PayPal, Cash on Collection
Postagem / Frete
Localização do Produto

BH21 2DY, Dorset, United Kingdom

Origem

No mundo todo

Pegar

Comprador pode pegar pessoalmente

Instruções de envio

1st Class Royal mail
Aceita Devolução

Sim

Política de Devolução

Returns accepted within 14 days, in the same condition as sent out. Buyer must pay return postage.
Escrever mensagem
Entre
to ask the seller a question.