Detector Finds 5
GBP 15,00
Quantity

In Stock
Postage

Free to United Kingdom
Free in UK Mainland
Get Additional Rates
Select Country

Zip/Post Code

Quantity
3099 views
Seller Info
Crawfords Detectorbits (157 )
Registered Since

15.01.2013 12:29:07

Feedback

100%

Store
Description
Detector Finds 5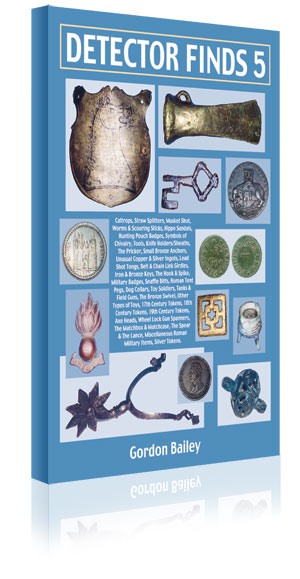 Contains hundreds of new colour illustrations of artefacts to help you identify, date and price your finds. Covering the stone age to Victorian times the chapter titles give you a clear indication of the wide appeal of DF5. As you can see there is significant coverage of tokens:

Caltrops, Straw Splitters, Musket Shot, Worms & Scouring Sticks, Hippo Sandals, Hunting Pouch Badges, Symbols of Chivalry, Tools, Knife Holders/Sheaths, The Pricker, Small Bronze Anchors, Unusual Copper & Silver Ingots, Lead Shot Tongs, Belt & Chain Link Girdles, Iron & Bronze Keys, The Hook & Spike, Military Badges, Snaffle Bitts, Roman Tent Pegs, Dog Collars, Toy Soldiers, Tanks & Field Guns, The Bronze Swivel , Other Types of Toys, 17th Century Tokens, 18th Century Tokens, 19th Century Tokens, Axe Heads, Wheel Lock Gun Spanners, The Matchbox & Matchcase, The Spear & The Lance, Miscellaneous Roman Military Items, Silver Tokens.

£15.00 Free Shipping in Uk
Payments & Returns
Payment Methods

PayPal, Cash on Collection
Postage & Shipping
Item Location

BH21 2DY, Dorset, United Kingdom

Ships To

Worldwide

Pick-ups

Buyer can pick-up

Shipping Instructions

1st Class Royal Mail
Returns Accepted

Yes

Returns Policy

Returns accepted within 14 days, in the same condition as sent out. Buyer must pay return postage.
Post Message
Sign in
to ask the seller a question.