Roman Buckles & Military Fittings
GBP 20,00
Quantity

In Stock
Postage

Free to United Kingdom
Free in UK Mainland
Get Additional Rates
Select Country

Zip/Post Code

Quantity
2827 views
Seller Info
Crawfords Detectorbits (157 )
Registered Since

15.01.2013 12:29:07

Feedback

100%

Store
Description
Roman Buckles & Military Fittings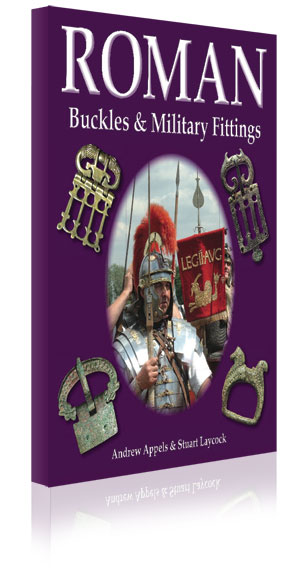 Was £25, now only £20!
The history of Britain is intimately tied up with the Roman army which for almost 400 years kept most of this island Roman. Much of the story of the soldiers who lived, fought and died for Rome here, can today only be reconstructed from the remnants of the kit they wore.
Over the centuries that the Roman army occupied Britain, its soldiers used a bewildering variety of fittings. Many of them are not easily recognisable to the modern eye, particularly when in fragmentary state. Too many important items are lying discarded in detectorists' junk boxes, because they are simply not being recognised for what they are. That small piece of twisted copper alloy could, in reality, be a Roman military fitting with a fascinating story to tell.
In this book, Laycock and Appels set out to document and identify many of the items of Roman military kit encountered today by detectorists and archaeologists and set them in their historical and military context. Late Roman buckles, and their British derivatives, for instance, give a unique insight into the last decades of Roman rule in the country and ultimately may hold the secret to the collapse of Roman Britain. Did Roman power start to collapse 40 years before the end? Was the population of Britain armed in the late 4th century? Did the British tribes re-assert their authority and raise militias for renewed inter-tribal conflict? The next buckle or fitting uncovered could help answer these questions and many more about the history of Roman Britain. But they'll only provide answers if they can be correctly identified.
Instead of just line drawings, this text is lavishly illustrated with hundreds of full colour photographs of surviving Roman military kit, most of them never before published. Some of these items are unique. Many of them are rare. This is a resource for detectorists, archaeologists, museum staff, collectors and re-enactors alike, and will be of interest also to many with a more general interest in the Roman military.
Contents include: Early Empire Buckles -Dolphin Buckles - Dragon Buckles - Bird Buckles - Horse head buckles - Lion Buckles - Strap ends - Belt stiffeners - Belt Plates - Helmet Fittings - Sword and Dagger Fittings - Armour Fittings - Shield Fittings - Apron Fittings - Horse harness Fittings - Roman military glossary - Bibliography
250mm x 190mm, 284 pages
ISBN 978 1 897738 290
£20.00 Free Shipping in Uk
Payments & Returns
Payment Methods

PayPal, Cash on Collection
Postage & Shipping
Item Location

BH21 2DY, Dorset, United Kingdom

Ships To

Worldwide

Pick-ups

Buyer can pick-up

Shipping Instructions

2nd Class Royal Mail
Returns Accepted

Yes

Returns Policy

Returns accepted within 14 days, in the same condition as sent out. Buyer must pay return postage.
Post Message
Sign in
to ask the seller a question.