Saxon & Viking Artefacts
GBP 16,50
Quantity

In Stock
Postage

Free to United Kingdom
Free in UK Mainland
Get Additional Rates
Select Country

Zip/Post Code

Quantity
3827 views
Seller Info
Crawfords Detectorbits (157 )
Registered Since

15.01.2013 12:29:07

Feedback

100%

Store
Description
Saxon & Viking Artefacts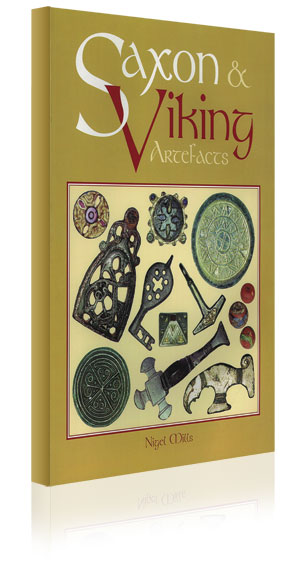 This exciting new book covers the period following on from Celtic & Roman Artefacts.
Together with "Celtic & Roman Artefacts" and "Medieval Artefacts" (also by Nigel Mills) - completes the historical series covering detector finds right from the Bronze Age to Tudor times. Illustrated in full colour and with over 250 superb photographs of individual objects, it encompasses the full spectrum of everyday items in use in Anglo-Saxon England in chronological sequence. The selection of illustrations has been built up over a period of 15 years from various collections.
The objects covered include: buckles, strap ends, pins, cruciform brooches, disc brooches, animal brooches, jewellery, beads, stirrup mounts, wrist clasps, dress hooks, keys, knives, tweezers, weights, gaming counters, and weapons. There is also a Norse mythology genealogical chart of the gods. Each item is individually valued in two states of preservation, Fine and Very Fine, and there are additional notes and advice for collectors.
The book is an invaluable reference work for metal detectorists, collectors, dealers, museums, and archaeologists.
Price guide for every item in two grades of condition.

£16.50 Free Shipping in UK
Payments & Returns
Payment Methods

PayPal, Cash on Collection
Postage & Shipping
Item Location

BH21 2DY, Dorset, United Kingdom

Ships To

Worldwide

Pick-ups

Buyer can pick-up

Shipping Instructions

1st Class Royal Mail
Returns Accepted

Yes

Returns Policy

Returns accepted within 14 days, in the same condition as sent out. Buyer must pay return postage.
Post Message
Sign in
to ask the seller a question.